Arctic Pilot 2020
- Threesome Tromsø!

The northernmost leather event
in the world
Tromsø, Norway November 11-15
Come north and play under the Northern Lights!
This event is a side program to Tromsø Arctic Pride,
intended for all gay leather or fetish men.
Update with respect to the Corona Virus / Covid-19 outbreak
As of August 10, 2020, precautions are still in effect in Norway. Social distancing of
1 meter / 3 feet, as well as frequent hand hygiene and general caution is advised.
The Norwegian borders are open for tourism from those countries (or regions) that have sufficiently low numbers of corona virus spreading. The list of countries is revised frequently.
The yellow areas on this map tells from where you can now travel to Norway without a required quarantine period of 10 days: https://www.fhi.no/en/op/novel-coronavirus-facts-advice/facts-and-general-advice/travel-advice-COVID19/#areas-with-sufficiently-low-transmission

Preparations and planning for the Arctic Pilot are carried out with the intention of staging the event and wishing you all welcome in November. Plans for the Arctic Pride in Tromsø are prepared in the same way, and we look forward to seeing you.

If the situation should change, news will be posted here.
(Updated August 18th)
Tromsø
Our playground is found 400 km inside the Arctic Circle, easily reached by air from several European hubs. The city of Tromsø is friendly, frosty and fun, with some breathtaking natural surroundings that include the Northern Lights. More info about Tromsø is found at the very bottom of this page.
Arctic Awareness
Our goal is to show off the leather lifestyle and increase visibility for all fetishes. The main stage for this is the Arctic Pride Parade on Nov 14, but we'll also be very visible elsewhere.
Bring it home
I would like to share the best of my hometown with you, including the attitudes and politics concerning sexual diversity. The Town Hall and the Cathedral are ready to welcome us to show how things are done up here - and perhaps inspire decision-makers abroad.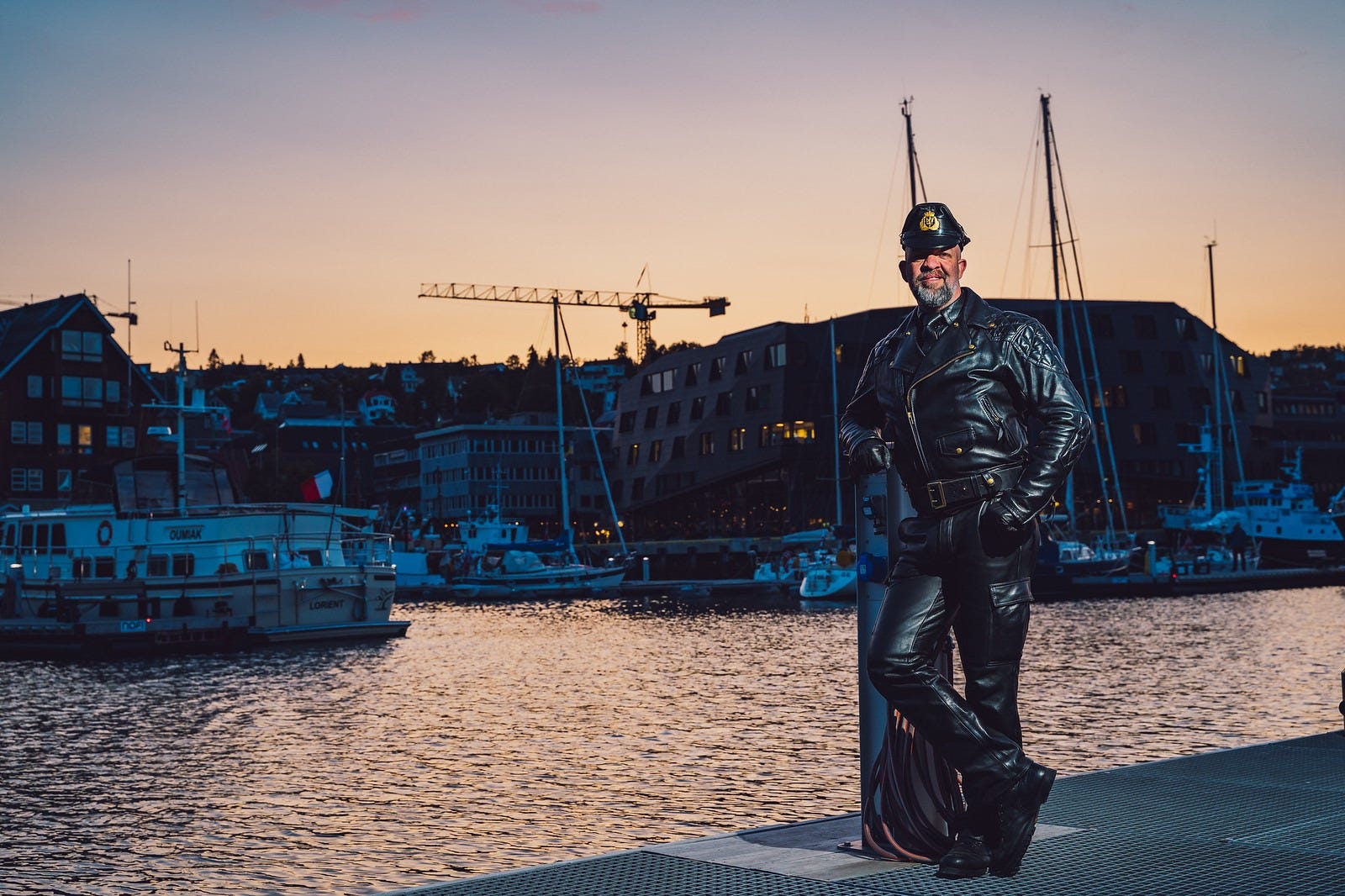 Invitation
Distinguished fellow leathermen, dear friends and brothers!
Welcome to my hometown Tromsø in Norway for the third Arctic Pilot event!


Inspired by the many prides and fetish events I have been lucky enough to attend, I want to give something back to the community, and bring the leather world inside the Arctic Circle.


Here in the far north of Norway, we celebrate the Tromsø Arctic Pride every November. Arguably the coldest and darkest pride in the World, it nevertheless gathered 7,000 people marching in the parade last year. Among them were 24 leather men from 8 different countries that I had invited for the second Arctic Pilot. We made a very visible and celebrated group in the parade.


This year, I should like to see even more leather men in the parade on Saturday, November 14th. I invite you to come to Tromsø for «Arctic Pilot 2020: Threesome Tromsø»


Under "Events" I am going to post the full schedule when it is ready. Expect a pub crawl with polar bears, a fetish dinner, museum exhibitions and city sightseeing, husky cuddling and Northern Lights watching, as well as the Arctic Pride parade and parties.

A registration and pre-payment system is in the making, and will be available here later in the year. Some pre-booking will be required for dinners and parties and certain events this year.
Tromsø is a booming tourist destination, and as the hotels are filling up very quickly in the Northern Lights season, I recommend you to book accommodation as soon as possible. There are no specific hotels booked for Arctic Pilots, but at the bottom of this page you'll find some tips.

I really hope to see all of you in Tromsø in November. It will most likely be frosty, possibly snowy, but you can look forward to a parade where you actually won't be too hot or sweaty in your leathers!


With the best leather regards from
Your fetish brother and Mr. Leather Norway 2019+20
Per Helge
Events
From museum tours to fetish partying, from husky cuddling to a Rainbow Mass, from the Arctic Pride parade to Northern lights watching - the 3rd Arctic Pilot is going to be very, very diverse!
Mr. Leather Norway 2019+20
My name is Per Helge Nylund, and I am the current Norwegian title holder. My title is extended for a year, until June 2021. I am born and raised in Tromsø, and a professional museum communicator.

Now I am once more organizing this event to celebrate our wonderful leather brotherhood and share my hometown with you. I'll be your host throughout the Arctic Pilot, making sure we all get an enjoyable time.
Where on Earth is Tromsø?
The good news is that it is actually on Earth, but far north of just about everything else. This map gives you an impression. And for those who are used to travelling in Europe, it might be good to know that the distance from, say, Copenhagen to Tromsø, is the same as from Copenhagen to Barcelona.


To get to Tromsø, air travel is the preferred and only time-efficient way. The Tromsø airport code is TOS. Our airport is located very close to the city centre, just 10 minutes by bus or taxi.

If you have the time and want to enjoy the journey, though, a train service from Stockholm takes you to Tromsø in 24 hours (the last four by coach, as the railway line ends in Narvik). Another much praised journey is on the Hurtigruten ships, starting from Bergen three days before reaching Tromsø.


By air, Tromsø has non-stop flight connections from London Gatwick, Brussels, Zürich, Frankfurt, Munich, Copenhagen, Gdansk, Helsinki and Stockholm, plus of course plenty of flights every day from the Norwegian capital Oslo and other Norwegian cities.
Freeze your nipples off?
What is Tromsø like in November?
Very cold? Very dark?


Well, it is more dark than cold. The temperature varies typically from +3 to -5C (25 to 35F), and if there's a bit if wind, it feels colder. So your beard will not be full of frost as soon as you step oudoors, but putting several layers of clothing under your leather jacket is smart. And longjohns, guys, longjohns!


Darkness is settling on Tromsø in November, but there are a few hours of (potential) sunshine left still during the Arctic Pilot. Do not expect the sun to warm you up, though.

Snow? Perhaps! The first snow might have arrived, or even melted away again. It could be raining or snowing, or clear and sunny. The last three years has seen clear, frosty weather on the parade day, but it is wise to be prepared for snow any day at this time of year. Make sure your boots have good, gripping soles.