Arctic Pilot 2023
- Pilot No. 5!

The northernmost leather and fetish event in the World
takes place during the Arctic Pride in Tromsø, Norway.

The dates for 2023 are
November 16-19
(Thursday to Sunday inclusive).
Tickets
Tickets for the Arctic Pilot 2023 comes in four types - all named from Arctic animals.
You can get Arctic Fox, Reindeer and Walrus tickets to mix and match,
or you can buy the Polar Bear Pass that covers everything.
Notice the lovely Arctic Pilot mascots, artwork by Jouni Lepistö.

Beware that the Fox, Reindeer and Walrus tickets do not overlap.
Only the Polar Bear combines all the others.

Ticket sales are administered by the Norwegian leather club SLM Oslo,
with tickets bought through the online Checkin service.

Get your tickets here!
Arctic Fox
Get Dancing! This ticket is for the Fetish Fest on Friday and the big Arctic Pride Party on Saturday. NOK 250.
Reindeer
Explore more! This ticket is for excursions; Deep Cellar Tour, Husky Farm Visit and a couple other Northern experiences.
NOK 650.
Walrus
Taste the North! This ticket is for Saturday's Formal Leather Dinner and the Sunday Brunch.
NOK 1250.
Polar Bear PASS
Get it all! This Pass combines all the other tickets and gives you access to everything that's on!
NOK 1800.
Tromsø
Our playground is found 400 km inside the Arctic Circle, easily reached by air from several European hubs. The city of Tromsø is friendly, frosty and fun, with some breathtaking natural surroundings that include the Northern Lights. More info about Tromsø is found at the very bottom of this page.
Arctic Awareness
Our goal is to show off the leather lifestyle and increase visibility for all fetishes. We'll be around both day and night, and the media will probably also show an interest. And in the Arctic Pride parade, we'll of course be very, very visible!
Bring it home
I would like to share the best of my hometown with you, including the attitudes and politics concerning sexual diversity. Tromsø City Hall and Tromsø Lutheran Cathedral are ready to welcome us to show how things are done up here - and perhaps inspire decision-makers abroad, if you like to bring ideas back to your hometown.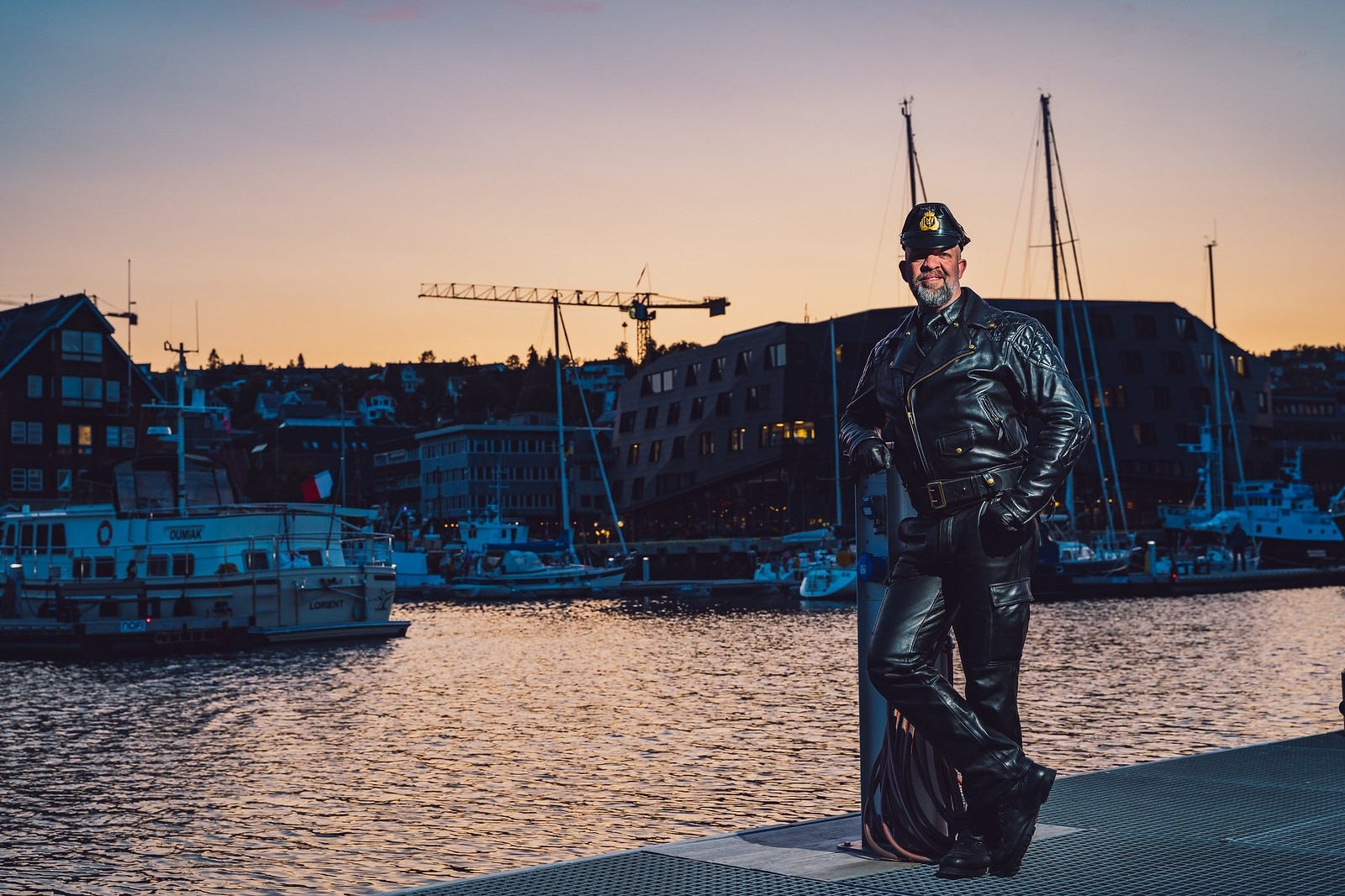 Invitation
Distinguished fellow leathermen, dear friends and brothers and others! Welcome to my hometown Tromsø in Norway for the fifth Arctic Pilot event!


Inspired by the many prides and fetish events I have been lucky enough to attend, I want to give something back to the community, and bring leather and fetish awareness inside the Arctic Circle.


Here in the far north of Norway, we celebrate Arctic Pride every November. Arguably the coldest and darkest pride in the World, it nevertheless gathered thousands of people marching in the parade in 2022. Among them were the 4th Pilots, no less than 45 in all, from 16 different nations, waving flags and radiating pride!


This year, I should like to see even more leather folks here, and I am preparing a four day programme to reward you.


Under "Events" you'll find the detailed schedule. You don't have to participate in everything, but I hope you'll make the most of your visit to Tromsø. I promise a pub visit with polar bears, a fetish party, a rainbow mass, husky dog cuddling and Northern Lights watching - and a lot more!
Booking accomodation early can be smart. There are no specific hotels pre-booked for Arctic Pilots, but at the bottom of this page you'll find some tips.

I recommend joining our Facebook group for more updates.

I really hope to see all of you in Tromsø in November. It will most likely be frosty, possibly snowy, but you can look forward to a parade where you won't be too hot or sweaty in your leathers!


With the best leather regards from
Your fetish brother and Mr. Leather Norway 2019+20
Per Helge
Events
From husky cuddling to a Rainbow Mass and a Deep, dark cellar - the Pilot No.5 is going to be very, very diverse!
Click the button to see the Event schedule, and check out the pictures in the Gallery!
Mr. Leather Norway 2019+20
My name is Per Helge Nylund. I am born and raised in Tromsø, where I work as a museum and science communicator.

In June 2021 I stepped down after 737 days
as Mister Leather Norway, and in May 2022
I took part in the International Mister Leather contest and came out no.8 - a great experience!

Now I am once more organizing this event to celebrate our wonderful leather brotherhood and share my hometown with you. I'll be your host throughout the Arctic Pilot, making sure we all get an enjoyable time.
Where on Earth is Tromsø?
Well, it is actually on Earth, but very far north of just about everything else. This map gives you an impression.


To get to Tromsø, air travel is the preferred and only time-efficient way. The Tromsø airport code is TOS. Our airport is located very close to the city centre, just 10 minutes by bus or taxi.

If you have the time and want to enjoy the journey, though, a train service from Stockholm takes you to Tromsø in 24 hours (the last four by coach, as the railway line ends in Narvik). Another much praised journey is on the Hurtigruten ships, starting from Bergen three days before reaching Tromsø.


By air, Tromsø has non-stop flight connections several days a week from London Gatwick, Paris, Zürich, Frankfurt, Munich, Copenhagen, Gdansk, Helsinki and Stockholm, plus of course plenty of flights every day from the Norwegian capital Oslo and other Norwegian cities. Check with your airline what options you have, or choose between the airlines below:

Scandinavian Airlines System
Norwegian Air shuttle
Norse Atlantic Airways
Freeze your nipples off?
What is Tromsø like in November?
Very cold? Very dark?


Well, it is more dark than cold. The temperature varies typically from +3 to -5C (25 to 35F), and if there's a bit if wind, it feels colder. So your beard will not be full of frost as soon as you step outdoors, but putting several layers of clothing under your leather jacket is smart. And long johns, guys, long johns!


Darkness is settling on Tromsø in November, but there are a few hours of (potential) sunshine left still during the Arctic Pilot. Do not expect the sun to warm you up, though.

Snow? Perhaps! The first snow might have arrived, or even melted away again. It could be raining or snowing, or clear and sunny. We've often seen clear, frosty weather on the parade day, but it is wise to be prepared for snow any day at this time of year. Make sure your boots have good, gripping soles.
Health
Since February 2022, all Covid-19 restrictions in Norway are lifted. There are no requirements of social distancing, testing or using face masks, nor any need to show proof of vaccination.

Monkeypox cases are so far few in Norway, and a vaccination program is in operation.

You can find updated regulations and travel advice from the Norwegian authorities here.
Our Pilot got a nomination!
Every year during the huge Darklands festival in Belgium, the X-awards are given to people, events and companies that in one way or other has made outstanding achievements in the gay fetish world.

In 2022, tiny little Arctic Pilot made it into the shortlist and was one of four nominees, together with Nice so Fetiche, Worldfetish Song Contest and Darklands itself.

Darklands won the 2022 Event of the Year award, but it's cool to know that the Pilot has been noticed!